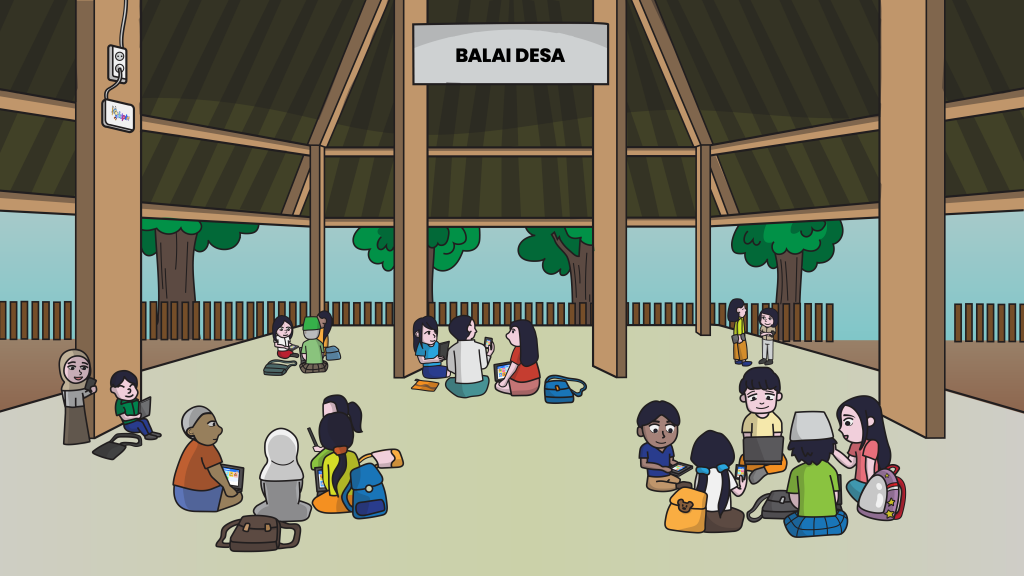 Indonesian Children's Literacy Ability is Low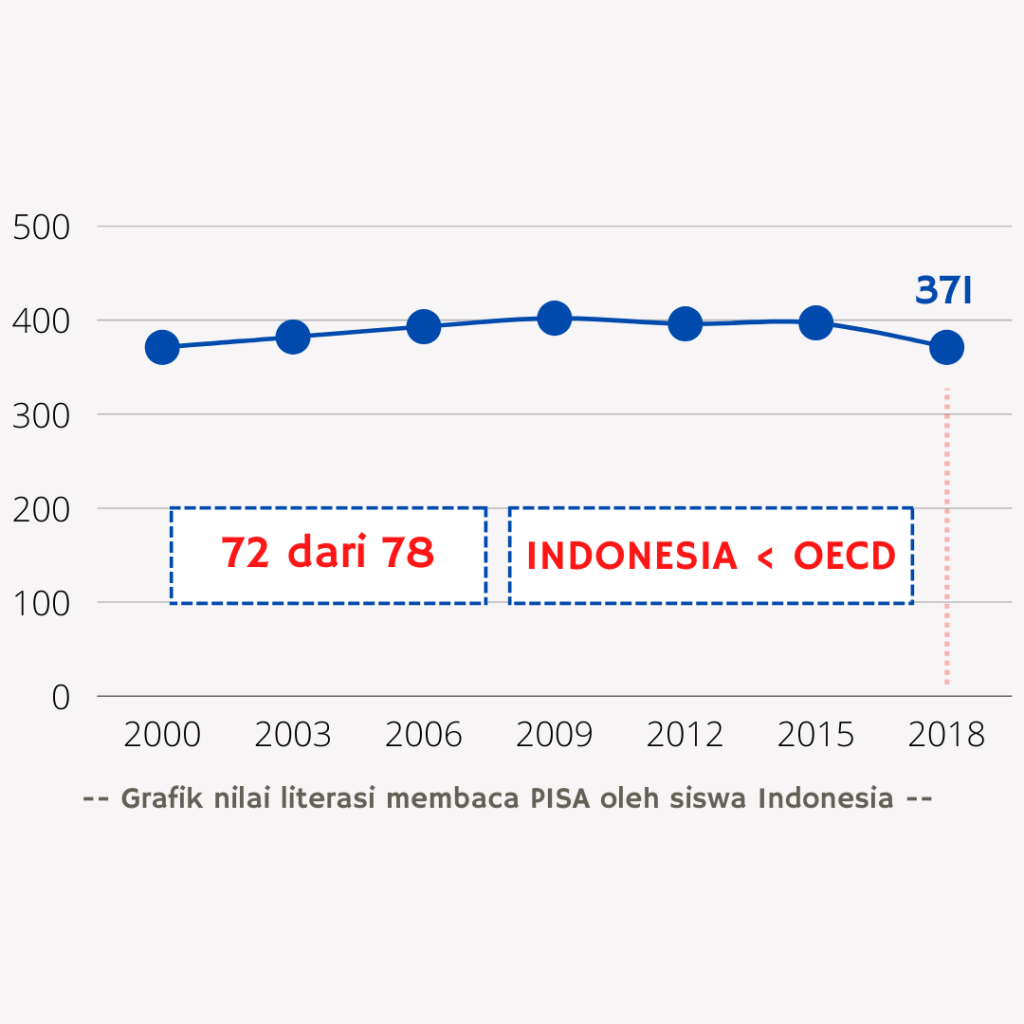 Education is the right of every child in Indonesia, even the world. Therefore, providing education and easy access to knowledge is one of the obligations of all parties who are able to make it happen. Unfortunately, research states that there is a low interest in reading. Reporting from Kompas online on December 15 2021, based on the Program for International Student Assessment (PISA), in 2018 Indonesia's literacy level falls short on the end of the list, ranking 72 of 78 countries.
Kelurahan (Municipal) Funds have not been Utilized Maximally
Reporting from the Jawa Pos news portal, it was stated that funds for Desa had not been utilized optimally. Especially in Surabaya, the total budget is Rp. 253.9 billion this year, of which only Rp. 8.2 billion or only 3.27 percent has been absorbed. Dakel's budget caters for two needs. Namely, the construction of desa facilities and infrastructure (Sarpras) of Rp 189 billion and until now, only Rp. 2.6 billion has been utilized. Another component which is community empowerment Rp. 64.8 billion, only Rp 5.6 billion has been absorbed.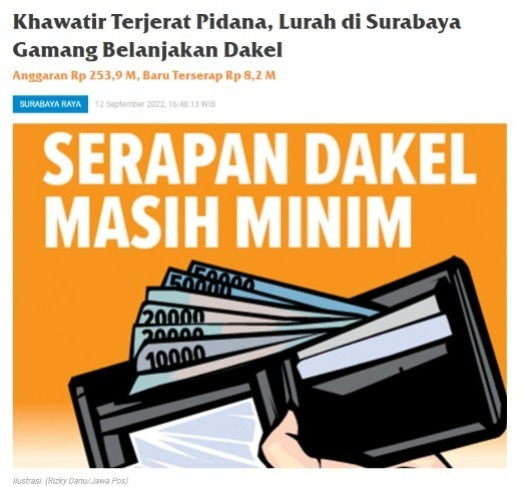 Sumber: https://www.jawapos.com/surabaya/12/09/2022/khawatir-terjerat-pidana-lurah-di-surabaya-gamang-belanjakan-dakel/
What's causing this? One of the reasons, according to Fatkur Rohman, Member of Commission A DPRD Kota Surabaya, is about the concern of the Dakel budget that might, that if the budget is fully disbursed it will result in a criminal offense.
However, the Secretary General of the Ministry of Village has provided a solution to these concerns as reported by perpusnas.go.id, that the Secretary General of the Ministry of Villages, Development of Disadvantaged Regions and Transmigration Anwar Sanusi stressed the importance of building Desa libraries as a means of community learning. In accordance with PDTT Village Minister Regulation Number 16 of 2018 concerning Priority for Use of Village Funds, Use of Village Funds for Literacy is allocated to procurement, construction, development and maintenance of educational and cultural infrastructure, namely Desa library buildings and books/reading materials; supporting educational activities for children of compulsory education age, such as the Desa library and its reading materials; as well as the Desa library in order to support the teaching and learning process in job training activities for villagers who will become migrant workers and are used by students in doing school work. This was conveyed by Anwar Sanusi when he was a guest speaker at the 2019 Library Sector National Coordination Meeting (Rakornas) in Jakarta, on Thursday (14/3/2019).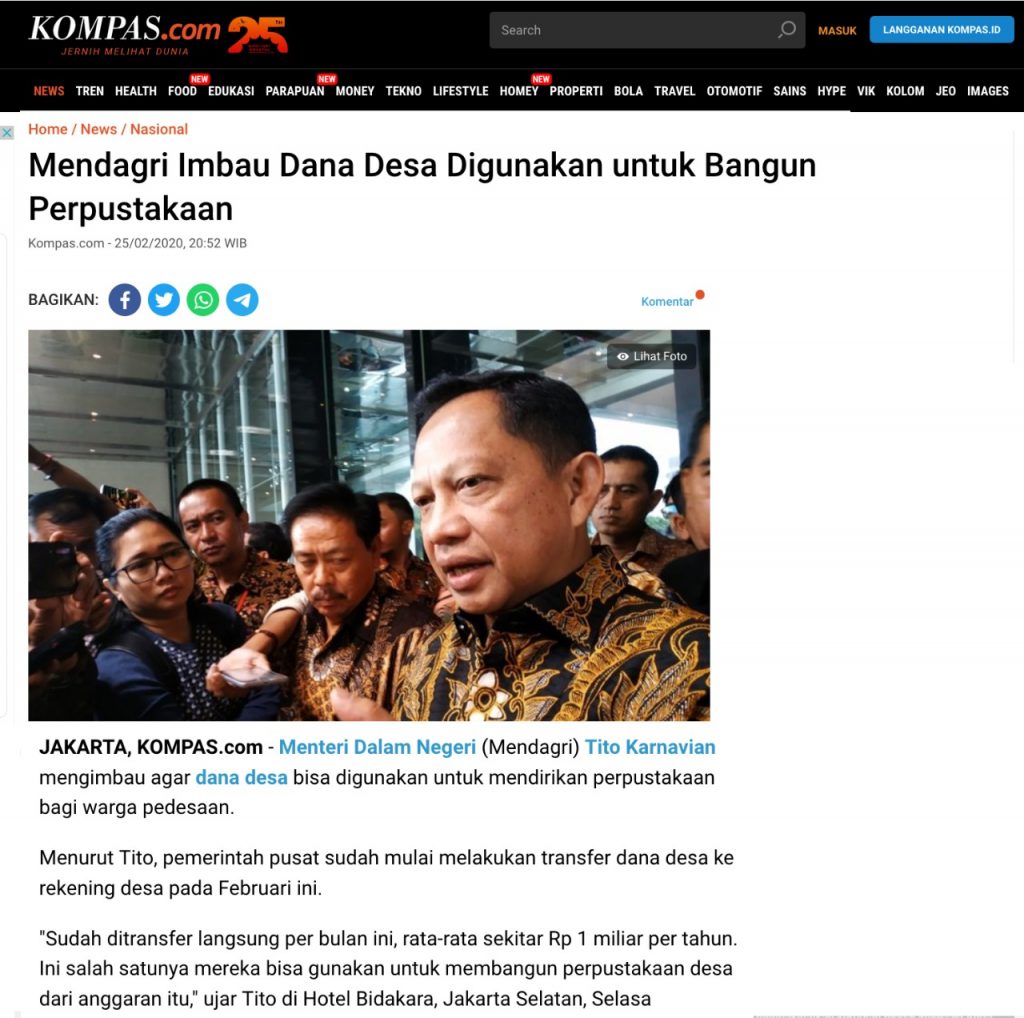 Sumber: https://nasional.kompas.com/read/2020/02/25/20521161/mendagri-imbau-dana-desa-digunakan-untuk-bangun-perpustakaan
The Solution to Creating a Library at the Desa Hall
Knowing all these facts, it can be seen how important a library is in every Desa or Kelurahan. However, what kind of resolution can really help?
In the 4.0 era, of course, technology exists to make activities effective and executed smoothly. With technology, several things can be achieved, including:
Providing complete learning resources and information covering all levels of education up to PKBM and Pre-Employment.

A sophisticated solution that can run without the need for an internet/offline network to avoid abuse of the facility, considering that users are the general public, including children.

Solutions that can increase children's interest in reading.

Digital technology is closely related to the internet. 
However, for a public facility that is used by all groups and all ages, having an internet connection can sometimes be a hazard. Children in particular, often abuse the existence of the internet to play online games, and non-educational entertainment. Of course this goes against the goal of providing a learning and information center at the Desa Hall.
KIPIN Classroom as a Desa Hall Digital Library Without Internet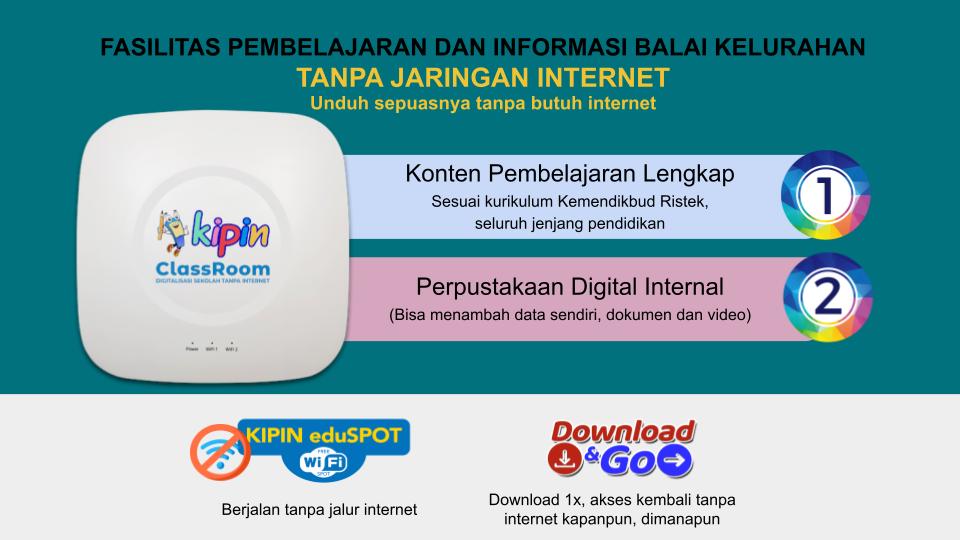 Kipin Classroom functions as a complete learning content that comes from various types. All of this learning content will continue to grow according to curriculum developments from the Ministry of Education and Culture, as well as the production of learning content from Kipin. The learning content in Kipin Classroom includes:
4000+ learning books from the Ministry of Education and Culture, Research and Technology and Ministry of Religion, including the equality Package A B C (PKBM) books, preschool books, employment books and general books that can be used by anyone

2000+ Learning Videos
50,000+ Practice Questions
450+ Educational Literacy Readings that can support children's interest in reading. All of them are Kipin's original educational comics that discuss culture, ethics, history, science.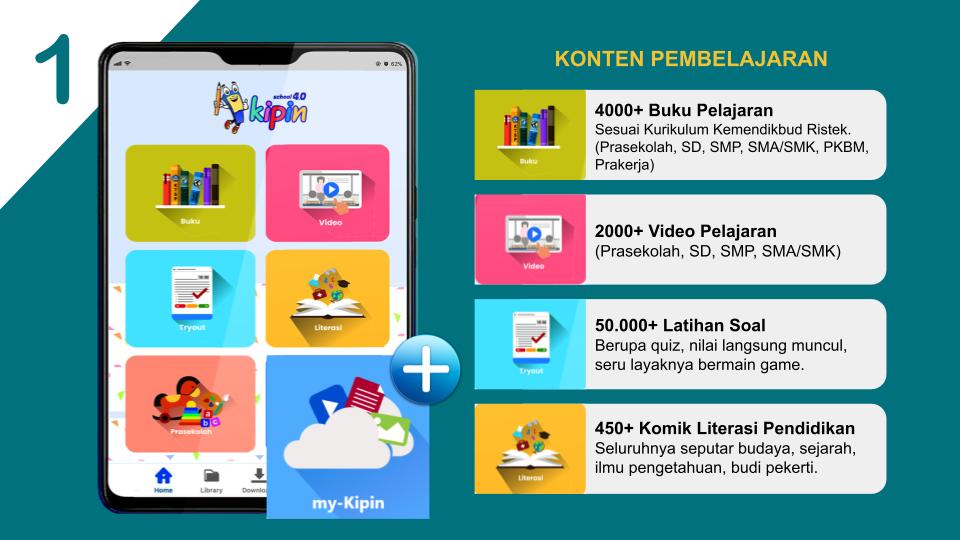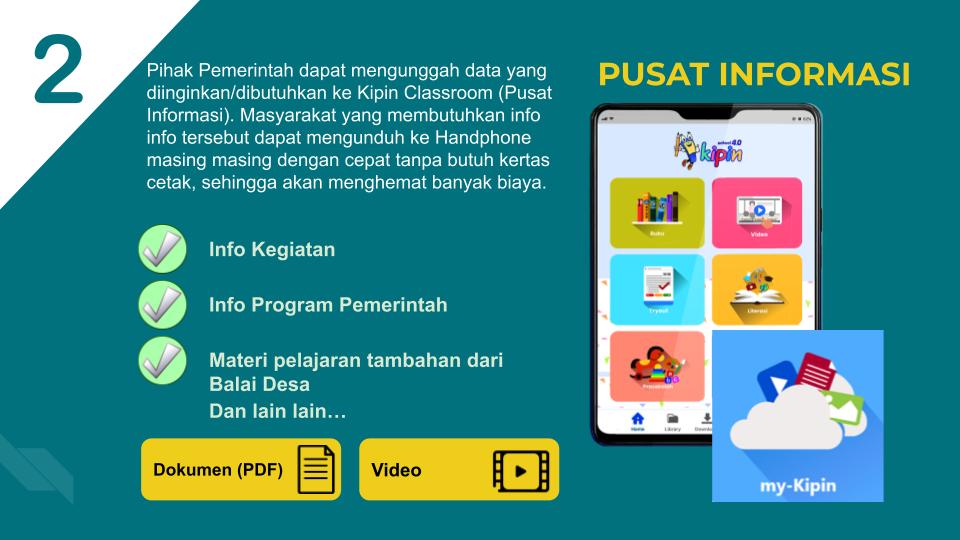 Kipin Classroom can be used as a Desa Hall information center server. This is because the Desa Hall can add their own files, documents and videos to the Kipin Classroom server, so that the public can get content from the Kelurahan or City/District Government. People can download it on their respective cell phones without the need for an internet network at all. Content that has been downloaded will be stored neatly on the Kipin application that is used, so that it can be read, watched, and accessed again anytime and anywhere without the internet.
Let's use Desa funds wisely for a Digital Library Without Internet that can create FREE education for the whole community.
Some news quoted from:
https://nasional.kompas.com/read/2020/02/25/20521161/mendagri-imbau-dana-desa-digunakan-untuk-bangun-perpustakaan (21 Oktober 2022)
https://www.perpusnas.go.id/news-detail.php?lang=id&id=190319103939NYS5pXtV8q (21 Oktober 2022)
https://www.jawapos.com/surabaya/12/09/2022/khawatir-terjerat-pidana-lurah-di-surabaya-gamang-belanjakan-dakel/ (21 Oktober 2022)